Our Staff
Our exceptional, friendly staff is our greatest asset. Our staff are licensed professionals who pride themselves on staying on the cutting edge of dentistry and patient communication. They are excited about what they are doing, have high standards of quality and integrity, and are motivated to achieve the best results for our family of patients.
Our dedicated and motivated staff has one primary goal—your utmost comfort! We feel it's important that you understand the treatment that you'll be receiving so that you can relax during the procedure. Our staff is eager to answer any questions regarding your dental care. Please feel free to share with us your needs and concerns.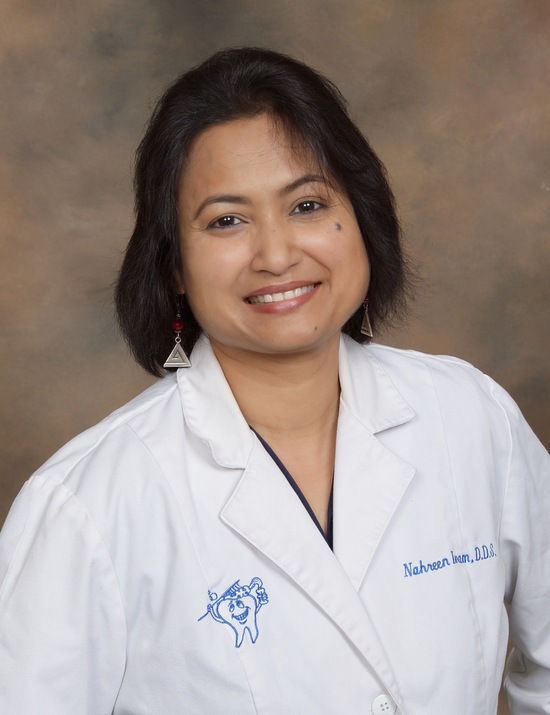 Dr. Nahreen Imam
General and Implant Dentist,
President and CEO of California Dental Care
Dr. Nahreen Imam graduated from UCSF, where she attended multiple specializations. She became certified in dental implants and has grown fond of performing complicated combinations of bridges and crowns that include 6, 9, and 10 teeth. Dr. Imam began doing Invisalign in 2007 and has become a Gold Invisalign Provider. She specializes in full mouth reconstructions and total smile makeovers. While she provides a vast range of dental procedures, including veneers, today she focuses on implants and implant restoration. She performs both single, multiple, and all-on-4® implants. All-on-4® is a top-level implantology of implant-supported dentures. She is a UCSF trained dentist and a member of ADA, CDA, and Napa Solano Dental Society. She has gone through extensive training and has a lot of experience in that area.
Dr. Imam has been practicing for 16 years and created her own practice, California Dental Care, 14 years ago. She has two dental assistants and employs six people for an extraordinary dental team! California Dental Care is a hybrid practice that combines both family and implant dentistry. Her 5-Star rated practice is known for offering only the best in dental care in American Canyon!
In addition to dedicating herself to the dentistry and oral care for her patients, Dr. Imam is also a proven philanthropist and social worker. She served as a voluntary dentist at the Berkeley Free Dental Clinic and Asian Health Clinic in Oakland. She is confident that someday the name California Dental Care will be synonymous with healthy and affordable oral health.
Nahreen Imam loves exciting adventures! Her hobbies range from skydiving to white water rafting in the Pacific! She has climbed the Sydney Harbour Bridge and is always up for a challenge. She also enjoys gardening and spending time with her colleagues.
Dr. Amitesh Patel received his undergraduate degree in dentistry and dental surgery in India. After moving to the United States, he attended the University of the Pacific, where he received his DDS in 2005. He specializes in single and multiple implants, sinus lift, molar endodontics, and 3rd molar extraction. He loves bringing back patient's smiles and is currently a general practitioner at California Dental Care.
Dr. Patel routinely continues his education and has received advanced training in implant placement and surgery, Six Month Smiles, Full mouth Rehabilitation, and Invisalign. He is currently a member of the American Dental Association and the California Dental Association.
Dr. Patel loves spending time with his patients and meeting them on a personal level. He's a people person who is passionate about helping others and making a difference with his profession.
At California Dental Care, we understand that the mere thought
At California Dental Care, your smile is our priority. We
The Ultimate Guide to Dental Implants at California Dental Care